My Flora Series is the result of a progressing photographic exploration of botanicals. I was driven to the subject at first by my alarm about the threatened natural world and a need to depict the richness of that world by a fresh act of creation. Each work in the series is meant to provoke and engage the viewer with a novel way of seeing these natural subjects.
I approach this work with a photographer's perspective of light and reality but my final images are not limited to realistic depiction. I want each of my works to have the effect of both symbolizing and laying bare the essential integrity and beauty of each subject; to transform but obscuring neither wildness nor beauty.
I shoot Flora Series photographs in the wild or in the studio, then I mold my images digitally, with a subtle, mottled patina that has an enriching and transcendent effect. I make each limited edition archival pigment print on fine art printmaking paper.
The Orchidotica works are at once more emotional and more abstract than my other botanical compositions. To me, orchids are seductive, sensual and emit a strong voluptuous energy that I have drawn on in the creation of these pieces. As I work, I have allowed each piece to come together irresistibly, magnetically.
The images are unique—one-of-a-kind—rather than editions. But since all are composed from the hundred or so photographs I made of an amazing orchid one day, each piece is, in a way, one part of an ongoing "edition" of that one session in the studio. They are also different from anything else I've done in that they are archivally pigment printed on canvas, mounted on hardboard in a cradle base and finally coated with beeswax medium. These works are photographic but untraditional in execution and so are not under glass.

An award-winning commercial photographer and digital artist, Mikel was one of the first photographers in America to adopt digital technology as a creative tool. He began his career in San Francisco and then in Los Angeles as an advertising and fashion photographer before moving to Salt Lake City in the 1980s. Mikel and his wife, Traci O'Very Covey, are partners in O'Very/Covey, a creative firm with both local and national clients. Some of his clients have been Rolling Stone, Macy's, San Francisco Magazine, Dole, Max Factor, Gallo Wines, Architectural Digest, Ballet West, Intel, Novell and WordPerfect. In 1995, Mikel was named one of the top twenty photographers in the country working in digital media by New York's Photo District News and several of his images were chosen for the First New York Society of Illustrators Digital Salon. His work received a gold Ozzie Award in New York in 2003 for a series of garden photographs in an article published in Utah Homes & Garden.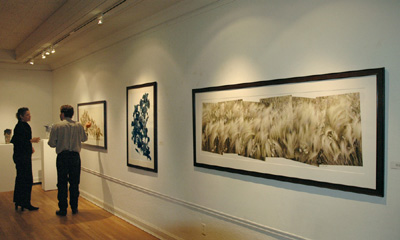 Personal: Born in Ogden, Utah
Education: 1968-69 University of Utah Photographic Studies
Exhibitions:
2014 J GO Gallery, "Massively Small" Group Show
2014 Loge Gallery, "Visions of Nature: Connie Borup, Laura Boardman, Mikel Covey,
Traci O'Very Covey"
2014 Modern West Fine Art, "Grand Opening Exhibition" Group Show
2014 Art Access, "300 Plates"
2014 Utah Museum of Contemporary Art Gala & Exhibition
2014 Art & Soup, Invited Artist
2013 Utah Museum of Contemporary Art Gala & Exhibition "Pop"
2013 Art Access, "300 Plates"
2012 Utah Museum of Contemporary Art Gala & Exhibition "White"
2012 Art Access, "300 Plates"
2010 Salt Lake Art Center, "Not Just Another Pretty Face"
2009 Salt Lake Art Center, "Not Just Another Pretty Face"
2009 A Gallery Salt Lake City "Holiday" Group Show
2009 A Gallery Salt Lake City "Meet The Artist" Group Show
2009 A Gallery Salt Lake City "One Grand Exhibition" Group
Show
2009 A Gallery Salt Lake City "Holiday" Group Show
2008 A Gallery Salt Lake City "Holiday" Group Show
2008 Evolutionary Salt Lake City Solo Show
2006 "Flora Series" Finch Lane Gallery, Salt Lake City Solo
Show
2005 Martine Salt Lake City Solo Show
2005 Red Butte Garden, Salt Lake City Group Show
2005 Salt Lake Art Center "Taboo" Group Auction
2004 Red Butte Garden, Salt Lake City Group Show
2003 Red Butte Garden, Salt Lake City Group Show
2001 Salt Lake Art Center "Objects of Adoration & Mystery" Group
2000 Salt Lake Art Center "Boxes" Group Show
1996 Salt Lake Art Center "Dance Photography" Group Show
1996 New York Society Of Illustrators Digital Salon Group Show
Publications: 2005 AdNews magazine "Creative Voice" cover article
1995 Photo District News (NYC) "PhotoDesign Digital Annual; Top Twenty Digital Photographers"
Gallery: Mikel Covey is represented in Salt Lake City by Modern West Fine Art